JOHN NORD
CIO at Cayuse
I like to read up on the latest technologies and meet up with fellow tech leaders to discuss challenges and how to solve them, as well as chatting about tech. Can you please provide a little introduction about yourself
I have been in the IT and Cybersecurity field for nearly 30 years. My current role is CIO at Cayuse, which is a remote first organization, but has offices in Portland, OR and London. Since Cayuse is a fully remote company I am based in the Southeast portion of the US, but I have also lived and worked throughout the US. Prior to Cayuse I was heading up the IT and Security initiatives for a global aerospace and defense company and have actually had the pleasure of working across a number of different industry verticals throughout my career.
What has your journey to your position been like? What path have you taken?
I have always been interested in technology, starting out growing up using Atari and Commodore computers. My "start" in this field happened while serving in the US Army in the early 90's. In the early 90's, most folks that worked in the technology field would be considered IT Generalist's, since we had to know about every aspect of the technology at the organizations we worked in. After I got out of the military I took on several contract roles to figure out how my military IT skills translated to the civilian sector and during that time achieved a number of industry certifications while completing my undergraduate and graduate degrees. In all of my stops I had been promoted quickly to lead different parts of the IT departments until eventually I was leading the entire organization, including cybersecurity.
Has it always been your vision to reach the position you're at? Was your current role part of your vision to become a tech leader?
Honestly, no. I had taken a non-traditional route into the field and achieved all of my degrees through online universities while I was married, raising a family, and working full-time. I have always had the ability to take complex problems and simplify them, which has helped greatly in getting to the roles I have held at my last several stops, including my current position. I also understood that I cannot do any of this myself, I am just not that smart, so I have always surrounded myself with folks that were as driven and determined as I was in making things better for the organizations in which we worked. I invested heavily in the individuals I have had the honor of working with and many of those individuals are not tech leaders themselves which gives me more happiness than anything I have achieved.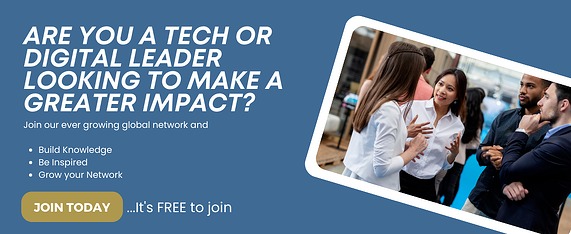 Have you had a role model or mentor that has helped you on your journey?
I have had several great role models and mentors over the course of my career. One that sticks out the most was Captain Smoleski, who I was stationed with at Ft. Bragg, NC when I served in the Army. He taught me how to be accountable for our actions as leaders and a lot of other lessons that I have carried with me over the course of my career. This knowledge was transformational for me at such a young age and serving in any military branch does mature you well beyond your years.

Ironically though I have often learned the most from the bad leaders I have crossed paths with, mainly on what not to do, which turns into a really actionable leadership plan when you put it into practice. Mirror the behaviors of those you trust and gravitate towards (where applicable), while doing the opposite of those who are not very good.
How do you see the role of the technology leader evolving over the next 5 years?
It is more than just technology, that is true now and will be more so over the next 5 years. There are people much smarter than I that build and support the systems my organization uses. The value that technology leaders bring to the table is really around another often overused term, Digital Transformation. I heard it explained better as "Business Transformation" and that is where the CIOs and CTOs of the future need to be thinking. Operational efficiency and continuous process improvement need to be driven from these technology leaders, with a clear focus on using and monetizing data in a compliant manner for our organizations.
What skills do you think leaders of the future will need in order to thrive?
Besides the ability to deliver technology solutions at scale, leaders also need to know how to drive change and deliver value. This is evident in the areas that CIOs, as one example, are expected to take on inside of their organizations today. It is not just about delivering enterprise value around our technology solutions, it is also about being a catalyst for change and thinking outside the box in expanding market value for their organizations.
How do you keep current with new skills, technologies and personal development?
Personally, I have taught college courses for the past 15 years, so that helps keep me engaged in technology, security, business, and leadership content, while also teaching the next generation of leaders. I continually attend conferences, webinars, and other events that will provide new ideas and/or new ways of thinking about the current landscape. Those that know me also know that I have at least 3 - 4 books I am reading at any given time on a variety of topics. I also find some of the industry reports that are published to be interesting in staying relevant on current trends.
What do you see as the next leap in technology that will impact your business or industry in particular?
Let me start by saying that there are a ton of buzzwords out there. My current organization provides a full suite of research administration software to an area that has historically been very manual. We often say that our goal is to give more time back to science. If nothing else, the recent COVID-19 situation has shed some light on the importance and urgency of conducting smarter research and bringing new solutions to market much quicker than we have in the past. In my opinion this is an area ripe for the next leap through the use of technology and I like to think that my organization is playing a small role in that.
If you were mentoring a leader of the future, what advice or guidance would you give to help them on their way?
Don't be afraid to do what you know is right. I see entirely too many leaders afraid of putting themselves out there for fear of failure or embarrassment. Sometimes in order to fix an organization we need to take bold action. Since I am a big sports fan, I like to put this into baseball terms: Sometimes we need to swing for the fences, sometimes we need a base hit, and sometimes we just need to take the walk. Experience plays a huge role in this because not every problem requires a home run swing and we lose credibility if we are constantly missing there.
Is there anything in particular that you would still like to achieve in your career or what is the next step on your journey?
I would like to be able to run an entire organization one day. Over the course of my career I have been able to develop an understanding of how organizations work and also know that I do not need to be an industry expert in order to successfully lead an organization to success.
If you could change one thing in the world, what would it be?
Security and Data Privacy laws. This is not quite the "World Peace" answer, but one that continually has frustrated me throughout my career. We will never achieve parity or actual security in these areas if every region does things differently. I feel that because of this we have a lot of "compliant" organizations, but very few "secure" organizations. This has also fueled a huge uptick of cyber security insurance policies being issued and required to do business vs. focusing on actually fixing our cyber security.
A big thank you to John Nord from Cayuse for sharing his journey to date.
If you would like to gain more perspective from Tech Leaders and CIOs you can read some of our other interviews here.