JEFFERSON MCMILLAN-WILHOIT
Founder and Chief Executive Officer at Flourish and Thrive Labs
I like to read up on the latest technologies and meet up with fellow tech leaders to discuss challenges and how to solve them, as well as chatting about tech. Can you please provide a little introduction about yourself
I am a husband. father, adventurer, and technology visionary that believes technology can help our society flourish and thrive. That is where my new company, Flourish and Thrive Labs, got its name. Up until very recently, I had the privilege to serve as the Chief Information Officer and Chief Data Officer for the Lake County Health Department and Community Health Center in Waukegan, IL. Serving the third largest county in Illinois, I built a team of talented technologists, analysts, and strategist to accelerate the Health Department's mission. My wife and I had our first child in August. Our lives, and with it our outlook on work, changed with the arrival of our daughter. So, we decided to found Flourish and Thrive Labs with the goal of being an employee first consulting firm and showing our daughter what work can look like. I get to bring my experience as a CIO to a whole new group of people, focused on helping organizations transform to better serve their employees, customers, and communities.
What has your journey to your position been like? What path have you taken?
I have taken a very unlikely path to being a CIO and now a CEO. I started out thinking I wanted to be a pilot. I went to school for aviation, but found a love of computers instead. I was interested in understanding how we pilots interacted with our computers (i.e. our airplane). I studied how pilots did this at higher altitudes with our oxygen and how that might impact our decision making. My hope was to better understand how to design computer interfaces to combat this lack of cognitive processing ability. That love brought me away from actual flying and into the world of accident research. I worked for the National Transportation Safety Board analyzing massive amounts of data in their safety databases. It was a blast, but I still felt something missing. What had fascinated me most about my work in school was not the interactions between the human and computer, but was actually the human themselves. How our brain worked and the chemical and biological processes that lead to the accidents I was studying. In a sudden turn, I made a shift into healthcare and decided I wanted to become a medical doctor. I continued my data science work at Children's National Health System, working for the CIO and CMIO. As an early data scientist, I was often responsible for building not only the data systems but also the supporting technical architecture they ran on. I was accepted into medical school a few years later, but decided to turn that down in favor of serving a wider community. After a short stint at Northwestern Medicine helping them transition to a single Electronic Health Record and unified data infrastructure, I finally landed at what I thought was my dream job. Chief Data Officer and Chief Analytics Officer at the Lake County Health Department, I was in heaven. My team and I were providing critical information to policy makers and our community, we were improving the care we provide through evidence-based practice, and we were impacting the lives that we served. It was all great until my boss, the CIO, announced he was retiring. I did not want to have someone in the CIO role that did not understand the work we were doing and did not specialize in Public Health. So I was named the CIO and CDO, where I served for three years through the COVID-19 pandemic. We implemented amazing systems, build incredibly trust with the community, and totally revolutionized the strategy of the agency. Nothing could have prapared me for how my life would change with the arrival of my daughter. I was a seasoned tech leader responsible for millions of dollars in technical spending, but I was ready to give all of that up to be a fully present dad. The expectations on current CIOs are so profound that finding the right balance was nearly impossible. So, I decided to create that balance myself and help others do the same. Now I get the joy of applying my CIO skills in helping many more organizations accelerate and achieve their technical vision.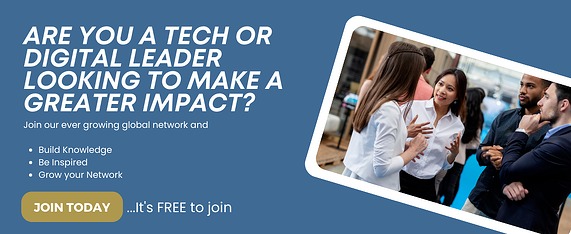 Has it always been your vision to reach the position you're at? Was your current role part of your vision to become a tech leader?
Not at all. I started as a pilot and somehow ended up as a CIO and now a trusted advisor to other CIOs. Becoming a tech leader was never even a thing I was working towards. My goals has been (and always will be) to help people live a healthier and fulfilled life where they can flourish. Each position has afforded me an increasing opportunity to influence the lives of people and help them be healthier.
Have you had a role model or mentor that has helped you on your journey?
There are too many to name. Every person I interact with is a role model for me. I am an observer by training and compulsion, taking note of people's actions and personalities. I am constantly cataloguing what works and what doesn't, trying stuff in my own practice to figure out what fits. There are, however, three key figures in my journey that deserve special mention. Brian Jacobs was the CIO and CMIO at Children's National through my tenure. He was, and always will be, one of the most influential leaders in my life. He taught me how to be strategic, ask good questions, and value the role people played. As a physician, he had caring built in. He also taught me a lot about technical systems and stakeholder engagement. He was always pushing me to be more rooted in the people I serve. Doug Kasamis was the CIO at Lake County when I joined. He was an influential figure, taking me under his wing and mentoring me in how to be a CIO. He encouraged me to always ask the "beating a baby seal" questions, those hard questions about ideas that seem so obvious but are left unanswered. Finally, my wife Juliana, a technology leader in her own right, has been a role model for me since I met her in 2016. She is kind, but has an edge that helps to make her an advisor on how to realistically implement technology. She helps me challenge my assumptions and makes sure my logic is sound.
How do you see the role of the technology leader evolving over the next 5 years?
The technology leader won't just be a technology leader. Out call as CIOs is to become business leaders. We have to know the business as well as the CEO does, plus we need to know the technology. It is a hard thing to do, but with technology becoming the root of competitive advantage in organizations, it is a necessary transformation of the role.
What skills do you think leaders of the future will need in order to thrive?
We will need to have the business acumen of MBAs, the financial knowledge of a CPA, and the transformational skills of a strategist. No longer can good technicians translate their skills into good technical leaders. The technical leaders of the future ned to expand their horizon, getting out of the depth of technical understanding (although that is still necessary) and get more into the business. We will have to justify our spending more than ever and we have to communicate that in a way that implies strategy and return on investment. Every technical leader should learn change management skills, budgeting and financial metrics, and good return calculations that make them an even match to the other leaders in the organization.
How do you keep current with new skills, technologies and personal development?
I have a ton of sources to keep myself current. I am always reading at least one fiction and one non-fiction book at a time. And I commit to reading them every day. I also value learning from others, so webinars from colleagues is helpful. I also talk to a ton of people. Each conversation helps me keep current. I absorb information like a sponge and take meticulous notes that I can refer back to. I am constantly looking for articles, videos, and books outside of the technical space to learn more about the business and industries outside of my own.
What do you see as the next leap in technology that will impact your business or industry in particular?
It might sound funny, but putting the human back into healthcare is our next big leap. We have implemented so much technology to make our work more effective, we have lost sight of the humanity of the person at the center of that care, the patient. Even the word patient will change as we look for ways to help the technology help our industry become human again. We will take cues from marketing and customer-centric industries (like retail) to get a deeper understand of the people we care for. We will create a 360 view of our patients and know them like Amazon does. This will take alot of tech and alot of change, but this is what is required to keep competitive.
If you were mentoring a leader of the future, what advice or guidance would you give to help them on their way?
Get to know people and form personal relationships with as many people as you can. In my career, it has been the people who have helped me the most. Sure, I could say "get up early, eat breakfast, workout, read all the latest technology magazines," but in the end that all is just fluff. What is most important are the relationships we build with our colleagues and our community. Without them, any future leader is destined to be a leader of one.
Is there anything in particular that you would still like to achieve in your career or what is the next step on your journey?
I want to be the most present dad to my daughter I can. Doesn't sound like much of a career goal, but it is. The next step on my journey is providing a place to work that I would be proud of my daughter to see. I want her growing up knowing that work is not just something we do, but it is who we are and what we were created for. But there is a human element to that and advancing a career does not mean loosing that humanity.
So, starting Flourish and Thrive Labs is my next big thing. My goal is 500 employees in five years. Seems big, but I believe our principles of putting our employees first and making this a place where they can flourish and thrive will lead to the revenue needed to support them. It is a big experiment, but I am hopeful.
If you could change one thing in the world, what would it be?
I would have taken the time to slow down. I became a CIO at 32, not because I wanted to, but because I was moving so quickly. In technology, it's hard for us to slow down. The speed we are innovating is faster that the speed of sound. And yet, we have to find a way to slow down and reflect. Otherwise, what is the point of innovating?
A big thank you to Jefferson McMillan-Wilhoit from Flourish and Thrive Labs for sharing his journey to date.
If you would like to gain more perspective from Tech Leaders and CIOs you can read some of our other interviews here.