ADRIAN BERRY
CIO

at

Aston Barclay Group
I like to read up on the latest technologies and meet up with fellow tech leaders to discuss challenges and how to solve them, as well as chatting about tech. Can you please provide a little introduction about yourself
I'm based in Wakefield, West Yorkshire. My current role as CIO for Aston Barclay is in a new industry for me having spent 20 years in travel and then 10 years in financial services. The change came at the right time in my career, something new!
What has your journey to your position been like? What path have you taken?
It's been a long and graduate road. I started out my working life as an engineer, with my sights set on becoming a technical draughtsman. It wasn't long though before the logic of 'computing' intrigued me. Since then, I have worked as an operator, developer, engineer and tester. Each role providing a new perspective of IT. I strongly believe this helped me achieve the roles of Application Management Director, Enterprise Architect, CTO and latterly CIO
Has it always been your vision to reach the position you're at? Was your current role part of your vision to become a tech leader?
I have always wanted to do and be the best I can, I take immense pride and pleasure in what I do. I'm not a fan of hierarchy, so no, I didn't aspire to be the 'big boss'. Having said that I always want to do more, learn more and then hopefully provide positive and constructive direction. So, in a roundabout way, becoming a Tech Leader, an influencer and owner of strategy and direction is the role I continuously aspire to.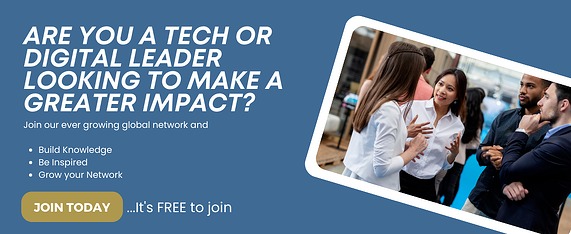 Have you had a role model or mentor that has helped you on your journey?
Of course, we learn from others. I have been lucky to have two very influential leaders in my career. Carl Dawson (CIO ASDA) kick started my senior career, provding insight and direction based upon his own early career. Latterly, Gary Edwards (CIO Perch Finance) has been a constant in my career, as my supervisor, mentor and friend. His knowledge and experiences have been invaluable. If there is one thing, I can recommend to anyone aspiring to be a tech leader is to learn from others, experience is GOLD.
How do you see the role of the technology leader evolving over the next 5 years?
In my time I have seen the role evolve from being in the basement (we've all seen the IT crowd) to being a valued member of the executive. We have adapted, talking zero's and one's has moved on. The role must be a business leader, tech sits in every corner of our lives. It is essential to be the figurehead within a business and to lead technology adoption and adaptation with a customer first approach.
What skills do you think leaders of the future will need in order to thrive?
Business acumen. Know your industry, understand your business rivals. We are competing every minute of every day for our customers attention. Understand and respond to that by staying ahead. Technology is moving at an incredible pace, being able to assess, adopt and adapt quickly will be essential to remaining competitive
How do you keep current with new skills, technologies and personal development?
Interest! You have to enjoy what you do. I'm constantly driven to delve deeper into research, keen to understand the 'why'. Of course, there are many agencies out there that can help shortcut the search, use them, time is a precious resource
What do you see as the next leap in technology that will impact your business or industry in particular?
The continued AI and data evolution. All industries are realising the importance of data. This is of greater importance in the automotive industry, from vehicle inspection through to customer behavior. each and every touch point is relevant and has the power to influence the next. It will be an exciting and fascinating journey
If you were mentoring a leader of the future, what advice or guidance would you give to help them on their way?
Simple, don't be afraid to step sideways, or even backwards. It's ok to go back and pick up experiences and skills. It will be invaluable as you grow and take on broader responsibility
Is there anything in particular that you would still like to achieve in your career or what is the next step on your journey?
I find business operations fascinating, leading as a COO is my next goal
If you could change one thing in the world, what would it be?
I'm sure there are many things that if we could change, we would. However, I would rather focus on what's ahead of us and be the best we can be.
A big thank you to Adrian Berry from Aston Barclay Group for sharing his journey to date.
If you would like to gain more perspective from Tech Leaders and CIOs you can read some of our other interviews here.