DR. KEN KNAPTON
Chief Information Officer at Progrexion
I like to read up on the latest technologies and meet up with fellow tech leaders to discuss challenges and how to solve them, as well as chatting about tech. Can you please provide a little introduction about yourself
I live in Utah, about 30 minutes south of Salt Lake City. I am currently the Chief Information Officer for Progrexion, which operates Credit.com and CreditRepair.com. Our primary focus is helping individuals ensure their credit report is fair and accurate.
What has your journey to your position been like? What path have you taken?
I started out in software development working in high tech. From very early on I was focused on enterprise systems and information security. One of the very early projects I worked on was an enterprise anti-virus solution which was eventually sold to Symantec and marketed as their Norton Anti-virus, Corporate Edition product for many years. I spent some time at various startups in the Chief Technology Officer seat focused primarily on the architecture and development of various technology solutions. I moved into the CIO role about 2 decades ago and have really enjoyed the dual responsibilities of technological advancement and operational excellence.
Has it always been your vision to reach the position you're at? Was your current role part of your vision to become a tech leader?
I thought that I would want to be a CEO. Since I was working in High Tech, I thought the path would be for me to become a CTO and then move into the CEO chair in a high-tech startup. As I was starting out in my CTO roles, I decided to get my MBA, and it was during that time that I realized that I wasn't really interested in a CEO role. I recognized then that I really enjoyed the CIO role and decided that this is where I wanted to direct my career. This also opened up a whole new world for me as I realized that my CTO skills were highly transferable to other industries, and that every company needed the capabilities that a good CIO brings to the table. Once I realized that I did not have to remain only in high tech, but could take on CIO roles in other industries, my career path really started to diverge from what I had originally envisioned.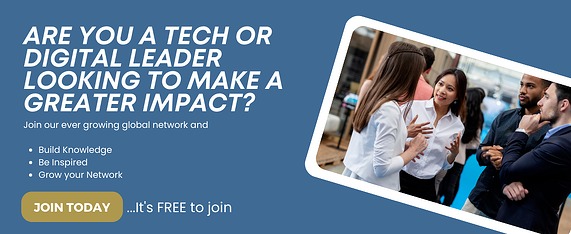 Have you had a role model or mentor that has helped you on your journey?
I have had several role models throughout my career. One of my mentors was Darwin John, who had served in several CIO roles and had just left his role at the FBI when we met. He was serving on the board of one of the companies where I worked as CTO, and he and I spent quite a bit of time together discussing the role of CIO. One of the insights he shared with me very early on was to "get out on the end of my leash". He advised me to explore my boundaries and said that if I ever got out too far someone would certainly tug on my leash. That advice has served me well for 20 years.
How do you see the role of the technology leader evolving over the next 5 years?
I have witnessed technology migrating deeper and deeper into every aspect of businesses. Today's technology leader must be a well-rounded business leader with keen insights into how data can be leveraged within an organization while simultaneously understanding the myriad endpoints and connections into and out of their environment. Tech leaders today need to be hyper focused on data, with an eye toward privacy of individual information as big data evolves. To do this, the tech leader has to have a clear understanding of the integrations existing within their systems. It is no longer simply a case of protecting your perimeter and focusing on the systems within your control; today's CIO has to be concerned with SaaS solutions and the myriad integrations that share consumer and customer data and achieve the balance between operating their business efficiently and being a good steward of the data, which is entrusted to them by consumers.
What skills do you think leaders of the future will need in order to thrive?
The CIO role today is all about collaboration. No CIO can survive for long if they are operating in a vacuum with regard to their peers and stakeholders. Executives are more tech savvy than they were in years past, and the knowledge of how tech can help your business is no longer centralized in the CIO role. But no other executive has the broad perspective that the CIO does, and no other executive on the team is as focused on the security and privacy aspects of the data you handle as the CIO is. The CIO needs to act as a collaborative leader who is constantly balancing the ethical considerations around use of customer data with the business needs for more detailed analysis.
How do you keep current with new skills, technologies and personal development?
I read a lot. There are a few conferences that I attend religiously each year, and I participate in a local Association for Information Management chapter where I can interact with my peers and learn from them what they are working on, how they are responding to challenges, and what solutions they are working to implement.
What do you see as the next leap in technology that will impact your business or industry in particular?
Having spent much of my time as CIO in the financial services arena, I would say that Blockchain technology is going to have a big impact on our industry in the coming years. Not only will it impact how financial services are offered, but I believe it will have significant implications to identity management. I can foresee a day when I don't hold any PII, but rather simply have a public key for each customer that points to their data on an identity blockchain somewhere else. That will have significant implications to data security, protection of private information, and general identity management and fraud protection.
If you were mentoring a leader of the future, what advice or guidance would you give to help them on their way?
Work on your soft skills. Technology leadership is more about interpersonal relationships than it is about technology.
Is there anything in particular that you would still like to achieve in your career or what is the next step on your journey?
I would like to serve on a board of directors within the next 5 years. I believe that cyber security is severely underrepresented on corporate boards today, and every company needs this skillset on their board.
If you could change one thing in the world, what would it be?
I would want people to be nicer to each other. Assume positive intent, look for the good in each other. There is too much rancor and anger in the world today.
A big thank you to Dr. Ken Knapton from Progrexion for sharing his journey to date.
If you would like to gain more perspective from Tech Leaders and CIOs you can read some of our other interviews here.