BRENT NAIR
Founder and CEO at Technology Advocates
I like to read up on the latest technologies and meet up with fellow tech leaders to discuss challenges and how to solve them, as well as chatting about tech. Can you please provide a little introduction about yourself
As an IT and business leader, I noticed a large gap in how small to medium sized businesses understand, manage projects and train their teams, and after many years serving in different roles in information technology, including director, CIO, and CISO, I decided to transition my part-time CIO consulting role into a full time business focusing on Project Management consulting, coaching and training.
What has your journey to your position been like? What path have you taken?
I don't have a traditional path of developer to CIO. My undergraduate and graduate degrees are in non-technical fields; history/anthropology(BA) and counseling(MS). I transitioned in the late 1990's into a technical training role and quickly realized I needed to have the "real-life" experience, and I had the opportunity to serve with St. Jude Children's Hospital as an NT 4 and Exchange system administrator. After that initial role, I continued to progress up the career ladder and to help in that effort I obtained my PMP, CISSP, and Lean Six Sigma Blackbelt. Each of these certifications helped me on my career path.
Has it always been your vision to reach the position you're at? Was your current role part of your vision to become a tech leader?
Yes, I had the goal to be a CIO and I was able to achieve that goal, which led to the "what next question?" In my current role, I don't see myself as a tech leader. I am an enabler who helps individuals and organizations achieve their goals. Sometimes those goals do require technology and my technical knowledge helps.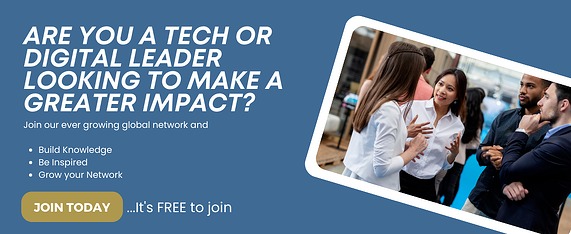 Have you had a role model or mentor that has helped you on your journey?
Yes, Joe Sanders realized my potential and gave me an opportunity to grow professionally and personally by always challenging me to do better.
How do you see the role of the technology leader evolving over the next 5 years?
The role will continue to evolve beyond their technical knowledge. In order to succeed a CIO must know and understand how they serve their organization. They have to lead and manage their organization. Understanding team dynamics, and the soft skills are attributes organizations will seek in the next-generation CIO.
What skills do you think leaders of the future will need in order to thrive?
How to work with people, develop teams, manage conflict, listen, be empathetic, collaboration.
How do you keep current with new skills, technologies and personal development?
Reading, online courses, seminars, and webinars.
What do you see as the next leap in technology that will impact your business or industry in particular?
Artificial intelligence will make the biggest impact.
If you were mentoring a leader of the future, what advice or guidance would you give to help them on their way?
All of my answers provided for question 6, and to remember being a leader is not about it is about the organization and what you do and say to champion the people with whom you serve.
Is there anything in particular that you would still like to achieve in your career or what is the next step on your journey?
Continue to build my business and write a book.
If you could change one thing in the world, what would it be?
We have to "step outside of ourselves" and understand we are part of a system and our actions impact others.
A big thank you to Brent Nair from Technology Advocates for sharing his journey to date.
https://www.itechadvocates.com/
If you would like to gain more perspective from Tech Leaders and CIOs you can read some of our other interviews here.