Claire Rutkowski
SVP, CIO

at Bentley Systems
Can you please provide a little introduction about yourself
I am based outside of Chicago. I am the chief information officer for Bentley Systems. Bentley's software solutions accelerate project delivery and improve asset performance for the infrastructure that sustains our economy and our environment.
What has your journey to your position been like? What path have you taken?
The path I took to achieve my current position hasn't always been straight, as is the case with many people if they are honest. I started in IT when personal computers were becoming ubiquitous (yes, I am dating myself.). I was fascinated by how simple macros and programs can make life so much easier and make work so much more efficient. Using computers to automate workflows, amalgamate data, and generally speed things up became my passion. I was a consultant for a while and then landed at Harza Engineering, which later became MWH. Little did I know I would be there for 19 years. Had I been doing the same thing every day, I never would have made it that long, but Harza (MWH) afforded me the opportunity to do different things and change my job every few years. I went from running the help desk, to delivering corporate training, to founding and expanding a project management office, to serving as Americas director in charge of field support, infrastructure and operations for all of the Americas, to the chief information officer. MWH was taken over in 2016 and I was then afforded the opportunity to join Bentley Systems.
Has it always been your vision to reach the position you're at? Was your current role part of your vision to become a tech leader?
I wish I could say I was so visionary that I always knew I would be a CIO, but the fact is that was never my plan. What always mattered to me was to add value to the company, no matter what I was doing. My dad must have told me "Work hard and you can't go wrong" at least 100 times growing up. I always felt that if I could say that I made a difference at the end of the day, that would be enough. After consulting, I managed a help desk team. That role added one more "must" to me – being a leader who created a safe, fun environment for my team in which everyone felt valued, trusted, and like they made a difference. Those two guiding principles of being a good, reliable leader and adding value to my company were always the drivers in my "plan" and still drive my enthusiasm and passion for the job.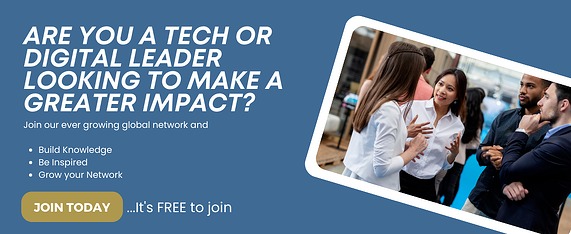 Have you had a role model or mentor that has helped you on your journey?
I have been lucky enough to have several mentors who helped me along the way. It would be hard to name them all. One mentor used to come in at 5 a.m. every day to write thank you notes to people. He was tough after 8 a.m., but I realized that before 8 a.m. he was a very kindhearted gentleman indeed. I had a mentor who stressed never to be afraid of speaking your mind and calling it like you see it. That same mentor also taught me to "take your gut" out of it – in other words, don't let emotions cloud decisions. I had another mentor who always got his way – on all things big and small, including ERP selections, etc., but he never ever raised his voice or got annoyed. Not one time. It was pretty remarkable. And I have had mentors who reinforced the value of relationships, helped me build confidence, or simply cheered me on and provided advice and a ready ear. They all know who they are and how much I appreciate the impact they have had on my life. One thing I would suggest to every person reading this is to have mentors. No one ever has all the answers or is done learning. Always spend time with people who can teach you things and guide you. Better yet, have several mentors who can each teach you something different.
How do you see the role of the technology leader evolving over the next 5 years?
Technology leaders need to evolve in several ways:
1. Be much more focused on the "why" of technology rather than on the "what." While the features and functionality of a given technology, time to deliver, and cost (the what) are obviously good to know, it is even more critical to understand what business outcomes we will obtain with a particular solution (the why). Are we changing things because we are trying to increase revenue? Will a given solution provide more seamless contact management from lead to opportunity to sale? Or are we trying to achieve business transformation completely? Technology leaders need to know why so that they can "sell" the project, obtain funding, and ensure every team member is aligned on what the purpose of what they are doing is.
2. Become a constant recruiter and company advocate. The Great Resignation or Reshuffle, whichever you choose, has changed the landscape of how we staff. While things may settle down, I doubt it. We live in an increasingly uncertain world, and turnover and talent shortages are a real, constant pressure, technology leaders are going to have to become much more adept at dealing with so we avoid constant stops and starts.
3. Be more aware of a wider selection of technologies and be much more educated about cybersecurity. Things are changing fast. Technology leaders need to know what is real, what is hype, and what is coming if they are going to be able to keep their environment safe, but also take advantage of new technologies such as artificial intelligence, machine learning, digital twins, Internet of Things, edge computing, and so on.
What skills do you think leaders of the future will need in order to thrive?
• Business acumen • Strong decision-making skills • The ability to create and maintain a positive culture • A drive for inclusivity and diversity • An understanding of how to get things done with low budgets and tight timelines • A hunger for knowledge • The ability to constantly scan the horizon for trends and tools that can be leveraged, while simultaneously keeping our feet on the ground and driving execution • Openness to new staffing models and new ways to get things done • Flexibility
How do you keep current with new skills, technologies and personal development?
I do a lot of reading and attend conferences and webinars, and I also rely on the people on my team to know their stuff and tell me what is coming, too. I also find that networking with peers and discussing what they are doing or thinking about is very helpful.
What do you see as the next leap in technology that will impact your business or industry in particular?
Given that I am in infrastructure, I am rather focused on digital twins, the internet of things, and the application of artificial intelligence and machine learning to automate workflows and spot problems before they become big issues. I am also keeping a very close watch on the commoditization of design and quantum computing as a way to run through thousands of parameters and scenarios to develop the "best" design quickly.
"

Two key pieces of advice I would give would be to find mentors and be kind to your team."
If you were mentoring a leader of the future, what advice or guidance would you give to help them on their way?
Our future leaders will need to be continuous learners, adaptable, tech-savvy, and flexible enough to keep up and not be afraid to make decisions. However, the two key pieces of advice I would give would be to find mentors and be kind to your team. With mentors and a supportive team, there really is nothing you cannot achieve.
Is there anything in particular that you would still like to achieve in your career or what is the next step on your journey?
I don't know that anyone is every truly "done," they simply move from one step to another. Right now, I am thoroughly enjoying the stage I am in and see no need to "get ahead" or go anywhere.
If you could change one thing in the world, what would it be?
If I could change one thing only, it would be spreading more kindness. It may sound incredibly naïve, admittedly, but I genuinely believe that if everyone were just kinder to their fellow human beings, to the earth, and to themselves, the world would be a much happier and less stressful place.
If you would like to gain more perspective from Tech Leaders and CIOs you can read some of our other interviews
here
.