CIO & Executive: ITSS at AVI Limited
Can you please provide a little introduction about yourself
Currently based in our Johannesburg office, I am the Group CIO responsible for operations in SADC and Europe. We are both a FMCG Manufacturing and Fashion Retail company with just under 10 000 staff
What has your journey to your position been like? What path have you taken?
I started out in the engineering field, mostly Novell, Unix & Microsoft Servers. Progressed to Enterprise Architect and spend a few years in pre-sales support. From there I moved into an executive role responsible for engineering and networking, which grew into an all infrastructure role over the course of 5 years. My last role is as Group CIO for a JSE Listed company, responsible for all aspects of IT and Industrial/Manufacturing components related to technology with a significant focus on Cyber Security
Has it always been your vision to reach the position you're at? Was your current role part of your vision to become a tech leader?
I have always found purpose in leading and developing people, my track record shows a significant focus on cultural, enterprise and specialist development within my teams. I have been fortunate enough to be in a position where I could develop skills that have now been placed all over the world. Being able to serve in a capacity such as this certainly is a privilege.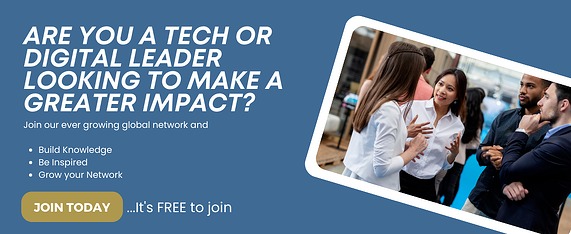 Have you had a role model or mentor that has helped you on your journey?
I have had numerous role models and mentors along the way. Most of which I am still in contact with and can still test my thinking or approach with. These individuals are amazing leaders in my mind and something I have inspired to over the years
How do you see the role of the technology leader evolving over the next 5 years?
We are definitely seeing a significant shift into the soft skills space, needing to be more aware of the demands on our teams and how we approach some of these challenges. The technology challenges such as Cyber will always be there and we have to stay abreast with the developments, but people is what will make our services businesses thrive or fail. The landscape is becoming ever more competitive and skills harder to find, keeping them being the most challenging part. We have to be able to create an environment that is conducive to making people feel wanted and appreciated. The cultural impact cannot be underestimated and needs to be assessed regularly to ensure it aligns to the global goals and how this encourages employees to remain and commit longer-term.
What skills do you think leaders of the future will need in order to thrive?
There will be more focus on people skills, but we cannot underestimate the need to have a technical understanding at least. CIO's are charged and viewed with a more focused business role and less technical, this aligns the business and technology risks for future accountability. It is no longer just about translating business needs into technology solutions, but driving a business alongside other leaders to develop a combined approach to how you serve your individual markets
How do you keep current with new skills, technologies and personal development?
There are a number of channels that are important. The basics of continuous development in both the technical and soft skills space cannot be underestimated. Ensuring that you have a personal development plan that you commit to and sharing these learnings with your immediate team goes a long way. I have been a keen supporter of meeting with sales people and architects to see where the world of technology is moving to, these relationships can be very fruitful to foster healthy networks with leading-edge technology groups and understanding how best they match your internal business needs. These are not aimed at a sales cycle, but rather an understanding that we want to learn about what is out there. Most companies are very supportive of this
What do you see as the next leap in technology that will impact your business or industry in particular?
The evolution of the manufacturing and retail industries with the use of better data and AI is already showing major shifts in thinking and market approach. The manufacturing plants are being automated and is becoming smarter, keeping them optimally managed will be the key.
The biggest shift I believe will be in the Cyber and Web3 space. There are some great technologies already, but maturing and securing these smartly for mass adoption is not far off. Fintech plays a major part in where we can move faster and more efficiently once we resolve some of the risk factors
"We will all fail at some point and make the wrong decision, but making no decision is far more destructive than a wrong decision."
If you were mentoring a leader of the future, what advice or guidance would you give to help them on their way?
Believe in yourself and never fail to make a decision. I have seen too many great companies suffer under the leaders that fear making hard decisions. We will all fail at some point and make the wrong decision, but making no decision is far more destructive than a wrong decision. Once you build momentum as a leader in ensuring decisions are made, success follows. Believe in yourself is an area where I see many leaders suffer from imposter type syndrome. We all have this when we are new in a role, but trust yourself and build the trust in your team and never let that feeling fester
Is there anything in particular that you would still like to achieve in your career or what is the next step on your journey?
I have been fortunate to achieve a very senior position at an early stage in my career. Having built some experience at this level I am looking at changing industries and exploring more of the markets I have only had limited exposure to
If you could change one thing in the world, what would it be?
Live and let live. Too many people are too concerned about what other people are doing and not focused enough on living our their own lives to the best of their ability
If you would like to gain more perspective from Tech Leaders and CIOs you can read some of our other interviews, click here.