Howard miller
Chief Information Officer at UCLA Anderson
Can you please provide a little introduction about yourself
Sure, I'm based in Los Angeles, at UCLA. I'm the Chief Information Officer at the UCLA Anderson School of Management. I've been with UCLA for a little more than 3 years.
What has your journey to your position been like? What path have you taken?
It's been a very long journey to this point and I took a relatively traditional path. It just took a while to realize the dream. I started as an entry-level programmer analyst out of college and eventually worked my way to the senior most leadership positions in IT. Of all the milestones along the way, I'd highlight 2 in particular. The first was my time as a consultant, in which I learned invaluable skills about working with individuals at any level in an organization and how to communicate. The second was the brief period that I spent outside of IT in a Corporate Finance department. The lessons learned spending time outside of IT were also invaluable.
Has it always been your vision to reach the position you're at? Was your current role part of your vision to become a tech leader?
Yes, it's always been the vision to make it to the CIO level. I've tried to take advantage of my current and any previous roles to be a technical leader. It's also important to note that the CIO role has fundamentally changed since setting the path forward to achieve the goal. I've had to course correctly appropriately.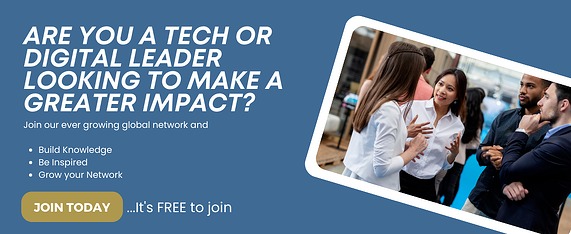 Have you had a role model or mentor that has helped you on your journey?
No, unfortunately not. That's probably the most likely reason it took as long as it did to achieve the goal. It's also one of the reasons that I give back - both in terms of my current employees, as well as several direct reports with whom I'm still in close contact if and when they need help.
How do you see the role of the technology leader evolving over the next 5 years?
It continues to evolve daily. We went from being the smartest technical person in the room, to the one who was responsible for technology oversight for the business, to really partner with the business to use technology to deliver business solutions. That last part will continue to evolve.
What skills do you think leaders of the future will need in order to thrive?
Political Savvy, Business Acumen, Financial Management, Agility.
How do you keep current with new skills, technologies and personal development?
Many ways actually. I attend a lot of conferences and spend a fairly large amount networking with other IT leaders both within my vertical and outside of it. I also subscribe to some of the leading research firms (think Forrester) to validate assumptions and hypotheses.
What do you see as the next leap in technology that will impact your business or industry in particular?
Good question. We are trying to break down silos and modernize to some degree. We are looking to get a lot more value out of the data we already have and are leveraging both Salesforce and Microsoft Azure to help us get there. I'm also leveraging conversational AI and I think that will make a difference for us as well.
"

Business relationships and your personal happiness matter."
If you were mentoring a leader of the future, what advice or guidance would you give to help them on their way?
Business relationships and your personal happiness matter. That's the number one piece of advice I'd give.
Is there anything in particular that you would still like to achieve in your career or what is the next step on your journey?
That's also a great question. I've achieved a lot to date and I'm extremely happy where I am. I haven't given much thought to the next step.
If you could change one thing in the world, what would it be?
A big thank you to Howard Miller from UCLA Anderson for sharing his journey to date.
If you would like to gain more perspective from Tech Leaders and CIOs you can read some of our other interviews

here.