Chief Information Officer at Black Knight
Can you please provide a little introduction about yourself.
I am a New Yorker who has been working and living in the Jacksonville, FL area since 2019. I head up Technology Infrastructure and Operations at Black Knight, Inc. That means I own responsibility for all aspects of IT Infrastructure, Corporate Applications, and Critical Systems.
What has your journey to your position been like? What path have you taken?
I didn't have a very straight forward path early on in my career. After graduating from a performing arts college in NY, I played music professionally for two years. After realizing that was a tough way to make a living I took a job on Wall Street working for Drexel Burnham Lambert in their HR department. I stayed there for a few years until a friend of mine who had an IT job at Salomon Brothers got me an entry level position working night shift as a mainframe operator. A year after I joined Salomon, UNIX was in it's pilot phase on Wall Street and Salomon was in the fore front of that transition. I was able to participate at the ground level and see how that technology transformed the business. After working my way into various key leadership positions at Salomon Brothers, Salomon became Salomon Smith Barney, then Salomon Smith Barney became Citigroup and the firm had 500,000 employees. Before I knew it I was managing a very large scale environment with staff and locations across the globe. At the end of my tenure I was an EVP who oversaw Infrastructure for the company's Capital Markets division which was 100,000 people in size...all before my 40th birthday. I left Citi to hold similar positions at Credit Suisse, JP Morgan Chase, RBC, Trade web Markets, and now Black Knight. I always felt, and still do, that working at Salomon Brothers and staying there throughout the formation of Citigroup was the equivalent of receiving a PHD from Harvard in Information Technology. That experience was unmatched for me and often leveraged in all of my roles afterwards and to this day.
Has it always been your vision to reach the position you're at? Was your current role part of your vision to become a tech leader?
I went to a performing arts college in NY where I studied art and music. After I graduated I played music professionally for two years prior to getting my first job on Wall St. So this was definitely not always my vision for where I wanted to end up! However, once I had my first IT role I certainly did start mapping out a career path in technology where I had hoped to be able to take on more and more responsibility, because I loved what I was doing.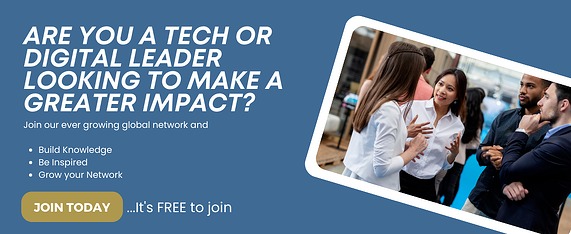 Have you had a role model or mentor that has helped you on your journey?
I haven't had a formal mentor but have been influenced by many greats over the years. I have also learned what not to do from some which is also a very good way to learn. Very early in my career I was lucky enough to work at Salomon Brothers at a time when that company was considered one of the most innovative technology shops on Wall Street. I've built on that experience over the years and it was a solid foundation to start with. In place of a formal mentor, I consider that experience to be the single most important catalyst to help me move forward in my career.
How do you see the role of the technology leader evolving over the next 5 years?
I see the role of the technology leader continuing to blur the lines between technology and business. The technology leader has become closer to the business over the last 5-10 years and that should continue. Years ago it was rare to see a CIO reporting directly to a CEO. Today it is common practice, and I believe that trend will continue and enable technology leaders to drive change across the enterprise.
What skills do you think leaders of the future will need in order to thrive?
People management skills are key now and will be in the future. Knowing how to build and maintain a high performing team go hand in hand with people management skills. From a technology perspective the lines have blurred between the technology folks and the revenue generating businesses. I believe that will continue going forward and those that have strong business knowledge will thrive.
How do you keep current with new skills, technologies and personal development?
I think everyone needs to find the medium that works for them when it comes to learning and keeping current with new skills. It could be classes, books, seminars, etc., but for me it has always been reading. Lately I have found many great YouTube videos that are educational for the times when I just don't feel like reading...so that's is something that I've recently started doing to supplement my reading. When I was a hands on tech I would read technical books and manuals, and when I went into management...I read books on management best practices. Whatever it is for an individual, the most important thing is to have the discipline to do it regularly. Early on in my career I committed to myself that I would not leave the office at the end of the day until I learned something that I didn't know at the beginning of the day. I kept that up for a very long time and it really helped me continue to build my skill set. Today I still read (and watch videos) regularly and I feel it keeps me informed of what current trends are happening in the industry.
What do you see as the next leap in technology that will impact your business or industry in particular?
Anything related to automation is key now and I feel will be going forward. Automation that eliminates manual tasks, allows business processes to run without humans, and in general results in faster and more sustainable growth for a company is wide ranging and will have significant impact. In addition, cybersecurity will continue to be in the forefront going forward.
"
D

on't skip any rungs in the ladder because there may be a lesson at a certain level that you may need in your foundation down the road somewhere."
If you were mentoring a leader of the future, what advice or guidance would you give to help them on their way?
Take on additional responsibilities in digestible chunks. Don't skip any rungs in the ladder because 1) there may be a lesson at a certain level that you may need in your foundation down the road somewhere, and 2) you'll be able to better connect to all levels of the organization if you've personally experienced them yourself.
If you could change one thing in the world, what would it be?
There are many things that come to mind when thinking about this question. However, the one that stays with me the most is the need for better treatments and ultimately a cure for the various types of cancers impacting many peoples lives. That would be the one thing in the world I would change.
If you would like to gain more perspective from Tech Leaders and CIOs you can read some of our other interviews here.