MARK HEWITT
President & CIO

at

Socially Savvy | EQengineered
Can you please provide a little introduction about yourself
I have a passion for social business, software engineering, data engineering, design, and all things digital. I am fortunate to have worked with thoughtful, talented people throughout my career.
I am a driven leader that thinks strategically and isn't afraid to roll up my sleeves and get to work. I believe collaboration, communication and unwavering ethics are the cornerstones of building and evolving leading teams. I have developed a reputation for adding value to my network relationships and driving high-growth that puts companies on the map.
In the past 30 years, I have been an entrepreneur founding multiple start ups, been part of a leadership team that grew an organization eighteen fold and revenue 41x, contributed to a company's successful acquisition, and was a catalyst for a team's global growth.
In my spare time, when not with my family, traveling, or engaging in activities along the coast or up in the mountains, I like to work with entrepreneurs to assist mentor and nurture new ideas.
What has your journey to your position been like? What path have you taken?
I started my professional career as a Cavalry officer in the U.S. Army in Europe. My first job post the Army was in Michigan designing and implementing material handling and warehouse management solutions at large companies. We were doing real-time looks through the web for product movement, contract manufacturing, and assembly processes which inspired my passion for the web and technology. I made a move back east to Boston where I am from originally and joined a systems engineering firm. As the material handling technology projects were not as compelling on the east coast as in the midwest, I made a move to a technology consulting firm, and the balance of my career since has been at Forrester Research followed by a second and third digital consultancy (most recently EQengineered) and Socially Savvy.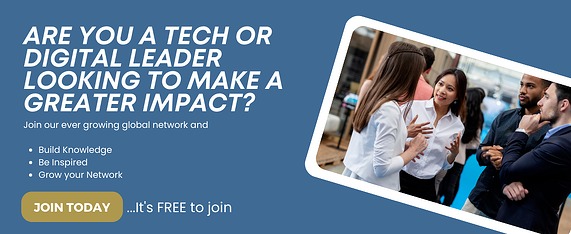 Has it always been your vision to reach the position you're at? Was your current role part of your vision to become a tech leader?
When I was young, I always thought I would make a career of the military. The path taken and the positions I am in at Socially Savvy as President & CIO and as President & CEO of EQengineered really came about as my passion for technology and helping military Veterans and their dependents intersected. Socially Savvy started as militaryjobtransition.com and evolved to academic, corporate and membership organizations as well as outplacement services as we learned to apply the science of social business to the needs of various constituencies. The tech leadership journey has really evolved with the complexities of the business and technology environment and I feel fortunate to have lived through the early web days, mobile, multi-channel, and now Web 3.0. The journey has led me to improve and modernize the end user customer experience and technology solutions at Socially Savvy and for enterprises at EQengineered.
Have you had a role model or mentor that has helped you on your journey?
Fortunately, I have had a number of capable, knowledgeable mentors/leaders who gave of their time and expertise to shape my journey. These individuals have been instrumental in providing guidance on fundamentals that have endured through the waves of technology change. As a result of my role models selflessness and caring, I feel a responsibility to pay it forward.
How do you see the role of the technology leader evolving over the next 5 years?
Technology leaders need to both maintain a currency with the evolving digital and technology landscape and hone their soft skills to be able to translate the impact and opportunities to their counterparts in business, on the executive team, and at the board level. The technology leader who effectively balances currency with an understanding of the relevance to customers and the business will be most effective and add value.
What skills do you think leaders of the future will need in order to thrive?
In order to thrive, leaders of the future need to maintain an intellectual curiosity, a passion for learning as practice, technology currency, human-centricity, and comfort with change as a constant variable. Leading with a set of values that enables the human experience and allows for experimentation and progress as new technologies come online is the balancing act of next generation leadership.

How do you keep current with new skills, technologies and personal development?
I am saturated with information all day from research firms, think tanks, peers and teammates, consultancies, and network and online channels. Learning and reading is a core part of my DNA and I look to specific sources for unbiased trends and forward-looking direction. Analyzing and synthesizing my own thinking and the relevance to my businesses is a constant. I also conduct purposeful outreach and meetings with people I believe are involved in new and innovative directions to test my own hypotheses and challenge my own thinking. And lastly, I liaise with leading, unbiased analysts and research firms to validate my thinking about forward direction.
What do you see as the next leap in technology that will impact your business or industry in particular?
Predictive and prescriptive analytics and cloud-based data engineering solutions will spur novel thinking and solutions in the next 5-10 years. Acceleration of cloud-based data engineering projects will create efficiencies and scale solutions in ways we haven't seen to date. As the knowledge bar of enterprises curves upward, I believe we will see a significant improvement in solution results as things become faster, more personalized, and increasingly accurate.
"

I do work with a number of emerging leaders currently and advise them to take on the hard problems and work with a group of collaborators that have complementary as well as competitive skillsets."
If you were mentoring a leader of the future, what advice or guidance would you give to help them on their way?
I do work with a number of emerging leaders currently and advise them to take on the hard problems and work with a group of collaborators that have complementary as well as competitive skillsets. The most important talent that I believe next generation leaders will need is the ability to collaborate with others as my experience is that motivated teams with various acumen and a clearly defined mission and vector accomplish surprising things. People skills and collaboration – the soft skills – matter most.
Is there anything in particular that you would still like to achieve in your career or what is the next step on your journey?
I hope to be around for the maturity of quantum computing or the next generation of computing. We have made such strides in the past 30 years and I subscribe to the notion that computational progress will only become faster and more efficiently. It would be exciting to witness the next wave of computational progress real time and past the current maturity of what is already known to lie ahead.
If you could change one thing in the world, what would it be?
The one thing I would change in the world if I could would be acceleration of access to wifi. The establishment of equal access for all populations across the world would have marked impact. I believe we are on the right path.
A big thank you to Mark Hewitt from Socially Savvy | EQengineered
for sharing his journey to date.
If you would like to gain more perspective from Tech Leaders and CIOs you can read some of our other interviews here.