VADIM ATAMANENKO
CIO

at Freedom Finance
Can you please provide a little introduction about yourself
- 20+ YoE in building complex solutions for mobile & web both from scratch and diving into an existing codebase,
- Specialized at designing complex distributed systems.
- Permanent member of the Harvard Square association (verification #4268).
- Conducted more than 30 judging procedures.
- Write articles on dev.to in the software development section.
- I enjoy meeting new people and sharing my knowledge.
During this time, a lot of projects have been implemented in various business areas (such as oil and gas industry, agro industry, Automation in the field of renting commercial real estate, Construction and much more)
At the moment I manage three companies:
• CIO, Freedom Holding Corp, Insurance company
• Founder, B2B Company, Software development
• co-Founder, B2B Company, Provision of accounting services
What has your journey to your position been like? What path have you taken?
The path to the CIO position became real for me as soon as I stopped being a regular developer and began to develop my softskills and personality brand, with the help of which I received the appointment. But you need to understand that even without my rather extensive technical background (more than 20 years in software development), nothing would have happened. I started as an ordinary C++ developer back in 1997 when I was studying at the university and further developed based on the technical requirements of the projects I led, but I was always interested in learning something new for myself, learning new technologies and development languages.
At the current moment, I have a lot of successfully launched projects behind me, as well as a fairly large number of participation in mentoring programs, hackathons, conferences. I also independently developed and launched a course in one of the public colleges, where I act as a speaker and teacher.
One of the mentees asked me not so long ago what pushes me forward, to be constantly in good shape and not burn out? My answer is quite simple, you need to burn with your work and that you like it, but there will be strength and time for this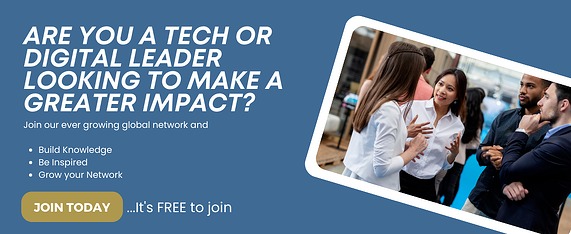 .
Has it always been your vision to reach the position you're at? Was your current role part of your vision to become a tech leader?
And yes and no, I always liked developing, managing a team and other things for me was not so interesting, but at some point, apparently, the knowledge became such that the position itself found me. I will try to put together a story about the observed company and my development in it, which will help to understand what I described above.
Having randomly received a newsletter from the HR company, we talked to the manager, discussed the possibilities and conditions, and parted in a good mood. Then we talked a few more times, I agreed to discuss the offer at that time with the current CIO of the company. We met, without noticing how it happened, I was hired (probably impressed by the work experience and the skills that the company needed).
As a result, after 2 weeks, I took the position of TeamLead of the development team for the internal project of the holding, regarding the division of insurance products. Time passed, my skills increased, and now, after 6 months of interesting work, the managing director called me with a proposal to be appointed to the position of CIO, to which I agreed and now I hold this role.
Have you had a role model or mentor that has helped you on your journey?
My professional career began with a meeting with Apple laptops (PowerBook Duo) back in 1992, as well as my hobby for computers in general, then for me it was something extraterrestrial and I really wanted to do it. With the help of a school teacher, almost until graduation, I was constantly engaged in programming (at that time it was Basic, Turbo Pascal, Visual Basic) and when it came time to choose a profession for entering the university, the choice was obvious. After successfully enrolling in the Software Engineer program, I started studying.
Since the 3rd year of university, I have already completed several commercially successful projects that I developed for organizations in Delphi and C ++.
From company to company, working full-time over the years, I tried as much as possible to introduce new technologies in a rather conservative country in terms of development, which eventually led me to develop Web applications and integrations with third-party sources. The first data exchanges were based on a simple exchange of text files, further XML, JSON.
In the same year, one of the companies makes me an offer to which I agree and start working first as a Junior developer and in one year I reach the Senior level. The development language that was used in the 1C company (this is the language for developing financial systems in the territory of the exUSSR, and since its technological part was developed in C++, the 1C language is quite similar to C++). Training at the time of work had to be postponed, because. on the one hand, the projects in the office were very interesting, and on the other hand, the university tasks were already too boring for me).
Over the years, the thirst for learning has not diminished and I have always been interested in something more than just going with the flow, using only a small stack of technologies.
Since 2014, I began to devote quite a lot of time to developing my skills in Web development and in 2016 I successfully completed the Bitrix Framework Developer course, which included learning the following skills in working with Java, JavaScripts, PHP, HTML, CSS, XML, DCOM, SOA/REST /WebServices, MS SQL Server, MariaDB, NoSQL, MySQL, IIS, PostMan, Jira, Push Notification, RESTApi.
From 2015 to 2018, he worked in a company that attracted me with an interesting project for me on the complex automation of rent calculations and related payments. On this project, I was convinced of the correctness of my professional development and with the set of languages ​​and technologies used, such as PHP, CSS, XML, SOA / REST / WebServices, MS SQL Server, IIS, it is not difficult to launch almost any cases.
In connection with the increased requests to me and the general recognition of me as a specialist, I decided to found my own company and did what I loved, but not only as a developer, but also as a Project Manager.
Since 2017, tasks for the development of mobile applications began to arrive quite often, and I decided to expand my knowledge and start learning the Swift development language. Swift is actually a continuation of the C language, so there were no difficulties in learning. The first courses were courses on Udemy, but it seemed to me that this was not enough and I enrolled in offline courses, which I graduated with honors among all the students on the course.
In parallel with the training, he began to launch internal projects for his clients, one of which is and is still successfully operating a system of internal control over the operation of a network of cinemas.
At the moment I work in one of the largest companies in Kazakhstan, which has 103 offices in 12 countries (US, UK, Germany, Spain, Greece, Ukraine, Cyprus, Armenia, Kazakhstan, Kyrgyzstan, Uzbekistan, Azerbaijan) - Freedom Holding Corp. Since 2017, the company has been listed on Nasdaq.
The company specializes in providing financial services, such as: Insurance, Banking services, Car loans, Brokerage services and much more.
In December 2021 from Freedom Holding Corp. I accepted an offer to the company for the position of Sr. Software Engineer, during the past 6 months, career growth in the company is as follows: SDE -> IT TeamLead -> SDM -> CIO.
As for who I would consider as a mentor, this is Steve Jobs, he has always been a great mentor for me, but, nevertheless, he is not with us now, his ideas and approach to working with us.
How do you see the role of the technology leader evolving over the next 5 years?
Perhaps this is a person not entirely from programming, but nevertheless versed in the field of development.
What skills do you think leaders of the future will need in order to thrive?
High level Tech and Soft Skills, Perseverance, The ability to think logically, Be sociable, be the soul of the company
How do you keep current with new skills, technologies and personal development?
For me personally, now it's probably active participation on LinkedIn, when judging hackathons, be speaker role on IT Conf or Meetups, writing articles, I also study on various platforms myself, and when I lecture in college .... Always learn something new all the time.
What do you see as the next leap in technology that will impact your business or industry in particular?
Probably the next step will be closer interaction with Generative AI to eliminate human errors in information processing.
"Never stop and do not be afraid, do what you think is right. Cowards don't make history."
If you were mentoring a leader of the future, what advice or guidance would you give to help them on their way?
Never stop and do not be afraid, do what you think is right. Cowards don't make history.
Is there anything in particular that you would still like to achieve in your career or what is the next step on your journey?
The next planned step in development, I believe, will be expanding my network of tech professionals to launch new, more interesting projects, obtaining a scientific degree and possibly a PhD ;)
If you could change one thing in the world, what would it be?
I would develop and implement a system for the early diagnosis, not only cancer, but also other equally terrible diseases.
A big thank you to Vadim Atamanenko from Freedom Finance.
for sharing his journey to date.
If you would like to gain more perspective from Tech Leaders and CIOs you can read some of our other interviews here.