CIO Advisory Partner at Kyndryl
Can you please provide a little introduction about yourself.
I'm a CIO Advisory Partner with Kyndryl. I am based in St Augustine, Florida (the oldest city i the US!). Kyndryl CIO Advisory Partners have a proven track record as trusted advisors to senior client IT and business leaders based on industry experience and technical subject matter expertise that are combined to identify, shape, and solve the most complex and meaningful client problems. We drive the full pre-sales cycle from origination to closure of opportunities that span the capabilities of our Advisory and Implementation Services (A&IS) portfolio and across Kyndryl and our alliance partners, while initiating, creating, and maintaining relationships at the most senior client levels. We propose, close, and deliver customized client engagements that provide valuable assessments, strategies, and roadmaps for technologies/platforms across our portfolio to drive a modernization agenda. Business development and relationship management: We develop and maintain relationships with key client stakeholders; develop pipeline and originate deals with C-level clients; lead pursuit teams; lead and contribute to the proposal development and negotiation process. We team with existing account team leaders, Managing Directors and Sales Executives to facilitate account planning. We leverage our technical thought leadership, success stories and points of view on IT modernization, resulting in identification of land, and expansion opportunities – leverage consulting entry points to drive bigger transformational programs --also through joint ventures and partnering.
What has your journey to your position been like? What path have you taken?
I've spent most of my 27 year international career holding various senior leadership roles with companies in Information Technology, Financial Services, Real Estate, Healthcare and Telecom living and working in the US, Europe and Asia Pacific.
I am the former VP – Corporate Strategy – Global Banking & Financial Markets for Huawei Technologies in China, and I have also worked for IBM for over 10 years as an Executive Architect and Client Technical Leader, KPMG, and Wachovia Bank (Wells Fargo). I have also been a Co-founder for a startup, CIO and CTO for four startups, and a Principal Advisor for a CIO Advisory Consulting firm. I have also worked with Crosslake Technologies providing Technology Advisory, Due Diligence, and Risk Assessments for PE firms for M&A target companies. I started my career in 1991 in Coldwell Banker in an Regional Office as an Analyst. I then moved to California with Coldwell Banker in a promotion to a Financial Analyst working between IT and Corporate Finance supporting the North America HQ Corporate Controller.
I've lived and worked in 6 countries outside the US totaling approximately 35-40% of my career. This has provided me an extreme "growth accelerator" both on a personal and professional level in my life. Selected Milestones and Accomplishments:
As Vice President of Corporate Strategy, selected and short-listed for Leadership in Banking Technology Leadership and Strategy and winner of three Mobile Banking Innovation awards as Sr Advisor.
Developed new global financial services horizontal industry strategy and portfolio across four business units and R&D resulting in a two-year revenue infusion, 154% increase in revenue, a new Blockchain Cloud Services solution, and a new and improved digital mobile wallet and SaaS based solution.
As CIO and CTO Developed technology strategy, product stack architecture and technology roadmap for full stack blockchain cloud services solution. Co-developed and delivered customer consulting engagement model and built initial customer pipeline of $2M with CEO/Founder and CMO.
As Principal and Chief Technology Architect, Completed provider's IT strategy transition for $1B modernization, which also included a 29-point enterprise network assessment resulting in a new $34M cross enterprise Cisco solution.




As Executive Architect, Client Technical Leader and Sr. Advisor, led IT and Solution Strategy for $10B portfolio of 5 Fortune 50 Financial Services clients in the South Eastern US. Resulted in $150M in new revenue and 40% reduction of risk across the clients datacenter, architecture and technology (SW and HW).




Led multiple global engagement identifying stability, high availability and resiliency issues for global IBM clients resulting in over $100M in new HA and DR solutions resulting in 80% reduction in systems outages and critical situations.




Led product innovation and development leading to Patent Awards and filings for IBM Software Group and IBM Systems and Technology Group for new products and product enhancements for Software Integration, Systems Management and Automation, and Cloud services automation reducing in system efficiency and cost savings improvements of 50-60%.




Chief Engineer for multi-year, $2B program at major bank in Emerging Markets in Southeast Asia, providing technical leadership, innovation, strategy, design and governance. As Senior Technical Leader, built and led cross enterprise team delivering $500M in new solution development and implementation improving banks high availability, resiliency and disaster recovery and new analytics and artificial intelligence program. Led to a 5 year $1B contract renewal.




Led cross -enterprise solution strategy, definition, design and development of portfolio of solutions which led to a 7-year $1.3B Strategic Outsourcing and Cloud Computing Contract with new services, and $3.8M in client and contract savings for a Fortune 50 International European based bank.




Led strategic Oracle global partnership program for IBM resulting in 12 new portfolio solutions for the Financial Services Industry, estimated at $500M in new annual revenue.




Led overall solution and integration architecture development for $80M Basel program for a Fortune 50 global bank, resulting in 35% improved risk reserves and customer analytical insights in compliance with Basel II for Market, Credit, and Operational Risk.




Developed and delivered the business case and new operating model for Top 10 Global Bank to migrate to new Global Financial Architecture with with an estimated first-year cost savings in excess of $3M per annum.




As System integration leader for $70M program supporting Credit Suisse Group Public Listing on NYSE in 1999-2000 and identified and mitigated group wide risks and developed IT Program Portfolio for risk remediation and external reporting and regulatory enhancements.




As Performance Engineering Manager, led team delivering an integrated activity-based costing platform saving an estimated $5.1M per annum and utilized for mergers and acquisitions at $65B Southeastern bank headquarters.




Developed client-server revenue recognition, partnership-based revenue model and service delivery platform integrated into business and core financial systems for leading global real estate corporation, generating $100M of new revenue per annum.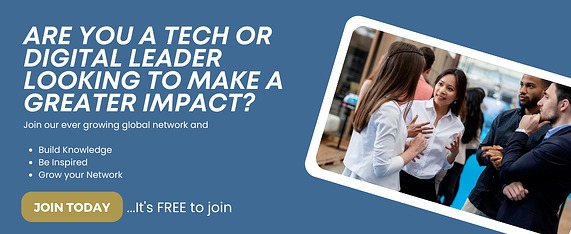 Has it always been your vision to reach the position you're at? Was your current role part of your vision to become a tech leader?
Yes. I feel I have had extreme drive and focus to become a CTO, and CIO and also being a trusted advisor to them in many different cultures, environments, countries, and very challenging circumstances that many professionals have never faced in their career and likely never will.
Have you had a role model or mentor that has helped you on your journey?
There have been multiple mentors, coaches and role models along the way. In addition, along the lines of role models are influencers who I have gravitated to in my journey as there are common traits and characteristics in their personality, emotional intelligence and leadership styles that resonate with me (in addition simply to their outlook on life in general). Some of these are: Anthony Bourdain, Daymond John, Tim Tebow, Richard Branson, Peter H. Diamandis, Jeff Weiner, Larry Fink, Sam Palmisano, John F. Kennedy, Jamie Dimon, Keanu Reeves, Satya Nadella, Arnold Schwarzenegger, Guy Kawasaki, Mike Bloomberg, Mark Cuban, Mike Sievert.
How do you see the role of the technology leader evolving over the next 5 years?
The role of the technology leader is being disrupted. The role(s) and titles are converging due to digital technologies and acceleration, the sharing economy, and new disruptive expansive business models that rely on the broader "liquid" ecosystem outside the four traditional walls of the enterprise. New emerging technologies such as advanced mobile services, AI, Open API's and platforms, Cloud Computing, IoT, Blockchain, Edge Computing and Quantum Computing are all playing a key role in this disruption and will impact technology leaders.
What skills do you think leaders of the future will need in order to thrive?
Number 1 without a doubt is cultural hyper-sensitivity and awareness. People skills, thought leadership and emotional intelligence are rapidly moving further to the forefront in separating the leaders from the laggards. A passion for staying ahead and being a cautious but optimistic skeptic of the shiny new toy in the toy box--I am talking emerging technologies here and their ecosystems. Realizing that you want to know everything there is to know about these new toys, but having a very solid appreciation for technologies that led us here too. Having an appreciation and deeper understanding for other countries, their politics, business models and people is of paramount importance as well. I cannot emphasize this enough--it has been a key part of my journey.
How do you keep current with new skills, technologies and personal development?
Continuous learning as a sponge. Formal education provided by my employer. Learning and from and observing others. Listening. External industry certification programs (I have over 15 certifications). Reading constantly--all types of content--business, technical, culture/art, social, entertainment. Traveling quite a bit. As the famous saying states: "Walk a Mile in My Shoes..." My journey has shaped my life and without learning multi-dimensionally, I would'nt be where I am today.
What do you see as the next leap in technology that will impact your business or industry in particular?
Without a doubt - Quantum Computing converging with AI and as well with Blockchain and possibly IoT. The explosion of data is requiring advanced insights, and advanced computation with predictive analytics will be more and more in demand.
"

Be human. Recognize that you are, at the end of the day, simply part of the bigger picture."
If you were mentoring a leader of the future, what advice or guidance would you give to help them on their way?
Be human. Recognize that you are, at the end of the day, simply part of the bigger picture. You are an important contributor, influencer but your energy is realized by the outcome you have on the people around you directly on your team(s) and indirectly in your ecosystem and sphere of influence. As Anthony Bourdain said: "Drink heavily with locals and eat with them whenever possible". Very important. And be vulnerable and authentic.
Is there anything in particular that you would still like to achieve in your career or what is the next step on your journey?
I've had very senior level interviews for CEO positions. I would like to rotate a bit further in CxO positions too. CEO, CISO, Chief Risk Officer, Chief Digital Officer, CFO, Chief Strategy Officer are all appealing. I've played various aspects of these in my career, so I feel I can succeed in more than one of these.
If you could change one thing in the world, what would it be?
Again--be human. Have a greater appreciation for others around us. Especially in terms of country and government cooperation to tackle and solve the world's biggest problems.
Other details that you'd like to add:
Hobbies and Interests:
Running

Fitness

Live Music/Concerts

Surfing & Snowboarding

Automobiles

Emerging Technology





Interesting Fact:

Learned Snowboarding on Zermatt (Matterhorn) in Switzerland. Level 2 Certification in the Swiss Rider School.
If you would like to gain more perspective from Tech Leaders and CIOs you can read some of our other interviews here.